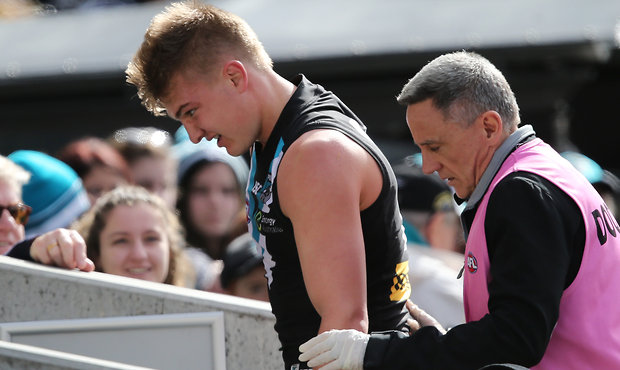 DAYNE Beams and Ollie Wines will likely miss the rest of the season, with medical advice to suggest they need reconstructive surgery on their respective injured shoulders.
That's what leading medico Dr Peter Larkins anticipates after the pair failed to get through their games at the weekend.
Wines sustained a full dislocation of his left shoulder in the first quarter of the Power's 63-point win over St Kilda. He returned to the ground with his shoulder strapped, but was eventually substituted out of the game at quarter time.
"Port has to make a decision whether they go down the James Frawley path. The Hawks defender had five or six weeks off and he came back and played (against Richmond) having not gone through surgery," Larkins told AFL.com.au.
"Wines really hasn't got five or six weeks up his sleeve. My summary is that a normal approach with the club would be to get the shoulder reconstruction done and that way the player can get back on track for the pre-season."
Beams, who Larkins says has a chronically unstable right shoulder, battled on against Geelong at Simonds Stadium on Saturday but spent much of the last quarter on the bench.
"The discussion would've been held last week. I presume he didn't want to get (the surgery) done then, so he played and he wasn't as effective and he appeared quite limited during the game," Larkins said.
"I'm expecting news that he's going to go in for surgery."
Matthew Leuenberger was injured when he 'hyper-flexed' his right knee in the same game against the Cats and was subbed out at half-time, putting the rest of his year in doubt.
Leuenberger had a minor operation on the same knee to deal with some pre-existing meniscus problems at the end of last season, which Larkins says may have contributed to the injury on Saturday.
"They're trying to sort out the damage but they're expecting that he's got bruising in the lateral part of his knee," Larkins said.
"They're trying to get a scan (Monday) morning to get results through about whether he needs any further work done on a torn cartilage in his knee.
"There's a stretch of the medial ligament, which does not require surgery, but he does compress and jar the lateral side of his knee when he hyper-flexes.
"The concern would be that he's split the lateral meniscus again."